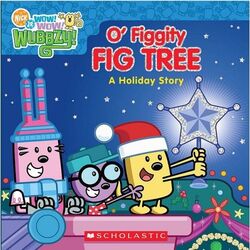 "O' Figgity Fig Tree" is the first Christmas-themed episode of the Nick Jr. animated series Wow! Wow! Wubbzy!
Synopsis
Wubbzy overdecorates the town's Figgity-Fig tree and blows the generator, which knocks out the lights. Now everyone must come up with a way to decorate it so it doesn't need electricity.
External links
This page about a Christmas special or an episode from a television series with a Christmas theme is a stub. Please help the Christmas Special Wiki by expanding this article.
Ad blocker interference detected!
Wikia is a free-to-use site that makes money from advertising. We have a modified experience for viewers using ad blockers

Wikia is not accessible if you've made further modifications. Remove the custom ad blocker rule(s) and the page will load as expected.