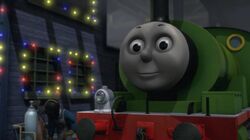 Percy the Small Engine is a fictional anthropomorphic steam engine from The Railway Series children's books written by the Reverend Wilbert Vere Awdry and his son, Christopher Awdry. He also appears in the spin-off television series Thomas and Friends. He lives on the Island of Sodor with many other steam engines, including Thomas, Gordon, and Henry. He is the smallest, youngest, and probably cheekiest, of the principal ones. He carries the number 6 on his bunker.
The Fat Controller brought him to Sodor when there was an engine strike due to a shortage of shunting engines. The bigger engines initially tried to bully him, but he soon showed that he was more than capable of standing up for himself. After a few years of shunting at the Big Station, the Fat Controller promoted him to goods traffic on Thomas' branch line. When not pulling trucks, he can be seen pulling the post train or even taking Annie and Clarabel when Thomas is busy. His best friends are Thomas and Toby.
He is reasonably experienced, but can still occasionally be a little naive and overconfident. In that sense, he is the perfect foil for Thomas – who can be just as headstrong.
This article about a character from either a Christmas movie, television episodic series or special with a Christmas theme is a stub. Please help to expand this article in the Christmas Specials Wikia.
Ad blocker interference detected!
Wikia is a free-to-use site that makes money from advertising. We have a modified experience for viewers using ad blockers

Wikia is not accessible if you've made further modifications. Remove the custom ad blocker rule(s) and the page will load as expected.