Rowlf the Dog is a Muppet character created by Jim Henson. He first appeared in 1962 in a series of Purina Dog Chow commercials, but later reached national stardom as Jimmy Dean's sidekick on The Jimmy Dean Show from 1963 to 1966. Afterwards, he went on to serve as the resident piano player on The Muppet Show.
Appearances in Christmas specials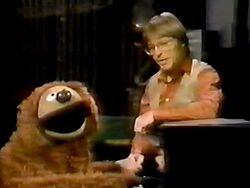 External links
This article about a character from either a Christmas movie, television episodic series or special with a Christmas theme is a stub. Please help to expand this article in the Christmas Specials Wikia.
Ad blocker interference detected!
Wikia is a free-to-use site that makes money from advertising. We have a modified experience for viewers using ad blockers

Wikia is not accessible if you've made further modifications. Remove the custom ad blocker rule(s) and the page will load as expected.