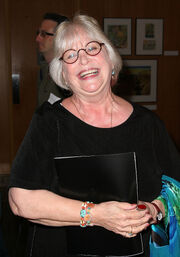 Russhell "Russi" Taylor (born May 4, 1944) is an American voice actress who is best known as the current voice of Minnie Mouse, whom she has performed as since 1986. Born in Cambridge, Massachusetts, she was notably married to Wayne Allwine, the third official voice of Mickey Mouse, from 1991 until his death in 2009.
Voice roles in Christmas specials
Disney
Other studios
External links
Ad blocker interference detected!
Wikia is a free-to-use site that makes money from advertising. We have a modified experience for viewers using ad blockers

Wikia is not accessible if you've made further modifications. Remove the custom ad blocker rule(s) and the page will load as expected.