Sam the Eagle is a character from the television series The Muppet Show. He is an American eagle, who feels his species and role as national symbol have placed certain responsibilities upon his shoulders. He has taken it upon himself to promote and protect wholesome American morals and values, and he works behind the scenes of The Muppet Show as self-appointed censor and advocate of cultural, educational acts. Sam is appalled by the nonsense that passes for entertainment on the series, and does his best to keep things in check, even though his pleas for an end to madness are usually ignored.
Appearances in Christmas specials
A Muppet Family Christmas - Sam's first appearance in a Christmas special has him joining his Muppet Show co-stars at Fozzie's mother's farmhouse, though he does not seem to know why he came with them, asking Mrs. Bear "Why am I here?" shortly after they arrive. Later, when the Sesame Street gang performs The Night Before Christmas, Sam is appalled at the casting of the Two-Headed Monster as St. Nicholas, asking "Is nothing sacred?"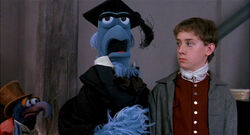 External links
This article about a character from either a Christmas movie, television episodic series or special with a Christmas theme is a stub. Please help to expand this article in the Christmas Specials Wikia.
Ad blocker interference detected!
Wikia is a free-to-use site that makes money from advertising. We have a modified experience for viewers using ad blockers

Wikia is not accessible if you've made further modifications. Remove the custom ad blocker rule(s) and the page will load as expected.