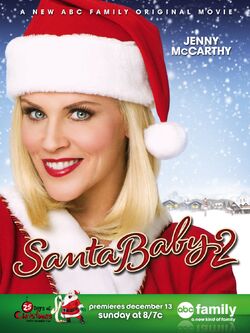 Santa Baby 2: Christmas Maybe is a 2009 sequel to the 2006 ABC Family original movie Santa Baby, which premiered on December 12th of that year on said network as part of the 25 Days of Christmas.
Synopsis
SPOILER:
Plot details or story follow.
Jenny McCarthy reprises her role as Mary Class, Santa's business-minded daughter, to help save Christmas once again. Santa's in the midst of a late-life crisis -- he's tired of the responsibilities of the job and is ready to pass on the reins to Mary, who feels torn between the family business and running her own high stakes firm in New York City, along with balancing a relationship with the love of her life, Luke (Dean McDermott). The situation gets increasingly dire when Teri, an ambitious new arrival to the North Pole, sows dissension at the workshop in an effort to take over Christmas, and the elves threaten to go on strike as a result.
Filming
Soundtrack
Alexa Vega sings the lead track from the movie, a cover version of Billy Squier's holiday classic "Christmas Is The Time To Say I Love You" and shot a music video for the song which premiered during the 25 Days of Christmas. Amber Stevens has recorded a new version the title song, "Santa Baby". The songs are featured on the compilation album Songs to Celebrate 25 Days of Christmas, released on November 3, 2009 by Walt Disney Records.
Cast
External links
Ad blocker interference detected!
Wikia is a free-to-use site that makes money from advertising. We have a modified experience for viewers using ad blockers

Wikia is not accessible if you've made further modifications. Remove the custom ad blocker rule(s) and the page will load as expected.