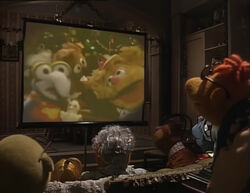 "Santa Claus is Coming to Town" (sometimes with "Coming" changed to "Comin' ") is a Christmas song that was written by J. Fred Coots and Haven Gillespie, and first sung on Eddie Cantor's radio show in November 1934. It became an instant hit with orders for 100,000 copies of sheet music the next day and more than 400,000 copies sold by Christmas. The song is often used to tell children that Santa Claus knows when they've been bad or good and that they should be good.
The song was so popular that Rankin/Bass made it into an animated TV special in 1970. The song itself has been recorded hundreds of times, the most popular versions include those by the Andrews Sisters with Bing Crosby, Arthur Fiedler and the Boston Pops Orchestra, Cyndi Lauper with Frank Sinatra in an electronically enhanced duet (Sinatra also sang this solo), the Beach Boys, the Pointer Sisters (covering a Phil Spector-produced version by the Ronettes), Bruce Springsteen and the E Street Band, and Rachel Crow. A version sung by Mariah Carey was included as a bonus feature in the 2005 DVD release of the Rankin/Bass special.
Lyrics
[Chorus]
You better watch out you better not cry
You better not pout I'm telling you why
Santa Claus is coming to town

He's making a list and checking it twice
He's gonna find out who's naughty or nice
Santa Claus is coming to town

He sees you when you're sleeping
He knows when you're awake
He knows that you've been bad or good
So be good for goodness sake

[Chorus]

With little tin horns and little toy drums
Rudy toot-toots and rummy tum-tums
Santa Claus is coming to town

And curly haired dolls that cuddle and coo
Elephants boats and kiddie cars too
Santa Claus is coming to town

The kids in girl and boy land
Will have a jubilee
They're gonna build a Toyland town
All around the Christmas tree

[Chorus]
Appearances in Christmas specials
Album releases
Ad blocker interference detected!
Wikia is a free-to-use site that makes money from advertising. We have a modified experience for viewers using ad blockers

Wikia is not accessible if you've made further modifications. Remove the custom ad blocker rule(s) and the page will load as expected.