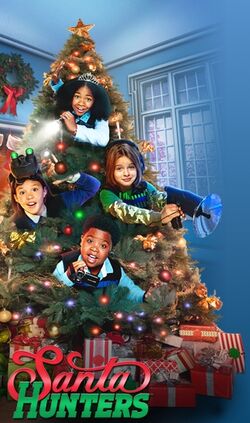 Santa Hunters is a Nickelodeon Original Movie starring Benjamin Flores Jr., Brenna Yde, and Mace Coronel, and directed by Savage Steve Holland. It premiered on November 28, 2014.
Synopsis
Alex and his cousins Zoey and Richard create an elaborate setup of traps to catch Santa Claus on tape, but their plan backfires when they realize that seeing Santa will cause him to lose his Christmas magic. The kids have to protect their tape to save Christmas, learning that believing is more important than seeing.
Notes
Donavon Stinson previously portrayed Santa in another Christmas-themed Nickelodeon Original Movie, A Fairly Odd Christmas, which was also directed by Savage Steve Holland.
Cast
External links
This page about a Christmas special or an episode from a television series with a Christmas theme is a stub. Please help the Christmas Special Wiki by expanding this article.