"The Wonder Pets Save the Nutcracker" is an episode of the Nick Jr. series Wonder Pets based onthe Christmas tale The Nutcracker.
Synopsis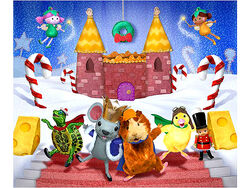 Infused with the familiar music of Tchaikovsky's The Nutcracker, this Christmasy (but not Christian) tale follows the Wonder Pets as they pursue the Mouse King, who has stolen the Nutcracker from the classroom, into a picture book. Linny the Guinea Pig, Turtle Tuck and Ming-Ming Duckling dance through a wintery wonderland filled with sugar plum fairies and sweet treats straight out of the classic ballet. They persuade the Mouse King to give back the Nutcracker and be happy with what he already has in his kingdom. Then the Wonder Pets travel back to the classroom and on Christmas morning, they crack open their nut which magically decorates the classroom and brings the Nutcracker to life.
External Links
This page about a Christmas special or an episode from a television series with a Christmas theme is a stub. Please help the Christmas Special Wiki by expanding this article.