"SheZon's Greetings" is the Christmas episode of the animated series SheZow. It and its partner episode, "Snow Way, Dude", originally aired on Network Ten in Australia on October 12, 2013, before airing on the Hub Network in the United States on November 30, 2013. Its title is a reference to the phrase "Seasons Greetings".
Synopsis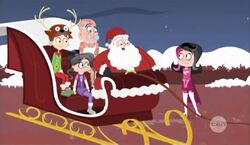 Santa Claus is being held captive by Tatooselah at the North Pole and SheZow comes to his rescue and helps him deliver Christmas presents.
This page about a Christmas special or an episode from a television series with a Christmas theme is a stub. Please help the Christmas Special Wiki by expanding this article.