John Denver and the Muppets sing the song in A Christmas Together.
Music by:
Franz Gruber
Lyrics by:
Josef Mohr
Date:
1818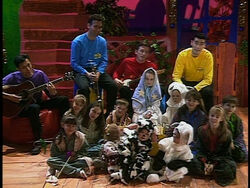 "Silent Night" (German: "Stille Nacht, heilige Nacht") is a popular Christmas carol. The original lyrics, "Stille Nacht", were written in Oberndorf bei Salzburg, Austria by priest Father Joseph Mohr and the melody was composed by the Austrian headmaster Franz Xaver Gruber. In 1859, John Freeman Young (second Bishop, Episcopal Diocese of Florida) published the English translation that is most frequently sung today. The version of the melody that is generally sung today differs slightly (particularly in the final strain) from Gruber's original, which was a sprightly, dance-like tune in 6/8 time, as opposed to the slow, meditative lullaby-esque version generally sung today. Today, the lyrics and melody are in the public domain.
A version recorded by Bing Crosby is one of the fewer than thirty all-time singles to have sold 10 million (or more) copies worldwide.
Lyrics
Silent night holy night
All is calm all is bright
Round yon Virgin mother and child
Holy infant so tender and mild
Sleep in heavenly peace
Sleep in heavenly peace
Silent night holy night
Shepherds quake at the sight
Glories stream from heaven afar
Heavenly hosts sing Alleluia
Christ the Savior is born
Christ the Savior is born