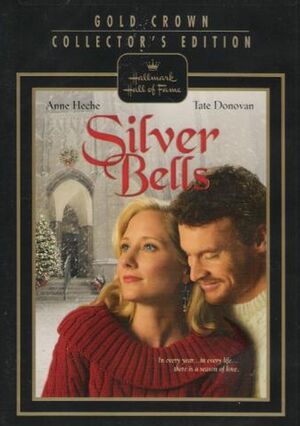 Silver Bells is a 2005 made-for-television film starring Anne Heche and Tate Donovan. It was produced by Hallmark Hall of Fame Productions for their made-for-television film series and was based on the novel of the same name by Luanne Rice.
Synopsis
Every year, widower Christy Byrne (Tate Donovan) has traveled from Nova Scotia with his children to sell their homegrown Christmas trees in New York City. This year, while Christy sells his trees, he'll try to find Danny, his 17-year old son who ran away a year ago.
Catherine (Anne Heche) lives in the same New York neighborhood and doesn't celebrate Christmas since her husband died. Every year Christy has tried to sell her a tree, but Catherine politely refuses. Neither of them realize that their lives are connected by Danny.
Cast
External links
This page about a Christmas movie is a stub. Please help The Christmas Special Wiki by expanding this article.
Ad blocker interference detected!
Wikia is a free-to-use site that makes money from advertising. We have a modified experience for viewers using ad blockers

Wikia is not accessible if you've made further modifications. Remove the custom ad blocker rule(s) and the page will load as expected.