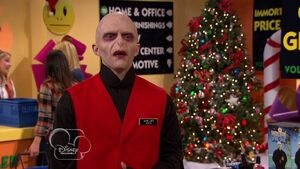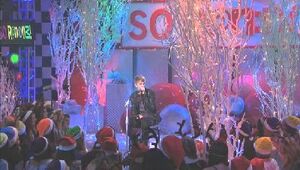 The Christmas episode of the Disney Channel Original Series So Random! premiered on December 4, 2011. It featured Justin Bieber as the guest star.
Sketches
The Gift Of Grammar
MC Grammar raps about grammar and Christmas as two rappers wait for the Mall Santa Claus.
The Platowski Brothers' Christmas Album
The Platowski brothers get a new Christmas album where they sing parodies of favourite Christmas songs about hate for each other. Songs featured "Dwayne is a nerd.", "Calvin smells.", Oh wah wah wah wah, oh wah wah wah wah," and "I wish you were someone different."
Coolest Kid In School: Part 7
The announcer lists things about the coolest kid in school once again.
Raised By Beavers
A girl raised by beavers wants to get her two front teeth removed but has a dream and decides to keep them instead because it makes her special by her crush raised by donkeys.
Coolest Kid In School: Part 8
Once again the announcer lists good qualities about the coolest kid in school
Harry Christmas from VoldeMart
VoldeMart is selling holiday products like "Malibu Voldie" which doesn't sell well while the Harry Potter Dolls are selling well. He even gets a visit from Harry Potter.
Songs
"Mistletoe" (by Justin Bieber)
See also
Ad blocker interference detected!
Wikia is a free-to-use site that makes money from advertising. We have a modified experience for viewers using ad blockers

Wikia is not accessible if you've made further modifications. Remove the custom ad blocker rule(s) and the page will load as expected.