"The Alan Brady Show Presents" is the Christmas-themed episode of the 1960s American television sitcom The Dick Van Dyke Show. Widely considered an all-time classic of the genre, it was originally aired on CBS on December 18, 1963, during the show's third season. This episode was said to be a welcome break from the demands of a weekly sitcom for all the cast members.
Synopsis
At first, it seems a downer of a Christmas. The staff is stuck making a Christmas special for The Alan Brady Show instead of spending the time enjoying themselves. But once the Petries' friends and family offer to help, some things take shape. The whole cast cuts loose and has fun in a series of in-show comedic skits and musical numbers, including the memorable "I am a Fine Musician".
Rob and Laura mock-play two street-corner Santas who lose their beards and fall in love amidst song and dance. Sally sings "Santa Send a Fella", a song close to home for her character. In another skit, Buddy cannot begin to play the piano for Sally's interruptions. Ritchie gets to sing "The Little Drummer Boy". At the very end, the cast even breaches the fourth wall and sings the show's classic theme music.
Availability
Image Entertainment made the episode available on The Dick Van Dyke Show: Season 3 DVD set, released on February 24, 2004, and later repackaged as part of The Dick Van Dyke Show: The Complete Series on May 24, 2005. The episode made its high-definition video debut as part of The Dick Van Dyke Show: The Complete Series Blu-ray set, released on November 13, 2012, and was included on the individual The Dick Van Dyke Show: The Complete Third Season Blu-ray set, released on June 11, 2013. It was then included on the episodes-only version of The Dick Van Dyke Show: The Complete 3rd Season DVD set on May 20, 2014. The episode was released again on a single-disc release, The Dick Van Dyke Show: Classic Christmas Episodes, on October 7, 2014. Its latest release was as part of a new The Dick Van Dyke Show - The Complete Remastered Series DVD set on November 10, 2015.
Cast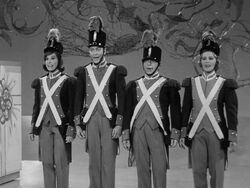 External links
Ad blocker interference detected!
Wikia is a free-to-use site that makes money from advertising. We have a modified experience for viewers using ad blockers

Wikia is not accessible if you've made further modifications. Remove the custom ad blocker rule(s) and the page will load as expected.