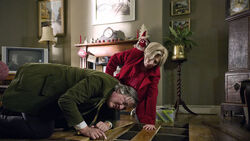 The Borrowers is a 2011 TV movie set during the Christmas period. It is about a family of small people who live under the floorboards of Granny Driver who have to flee to the big wide world and escape the clutches of an obsessive scientist before Christmas.
Cast
Christopher Eccleston as Pod
Victoria Wood as Granny Driver
Stephen Fry as Professor Mildye
Robert Sheehan as Spiller
This page about a Christmas movie is a stub. Please help The Christmas Special Wiki by expanding this article.
Ad blocker interference detected!
Wikia is a free-to-use site that makes money from advertising. We have a modified experience for viewers using ad blockers

Wikia is not accessible if you've made further modifications. Remove the custom ad blocker rule(s) and the page will load as expected.