The Christmas Shoes is a 2002 made-for-TV movie, directed by Andy Wolk. It is based on the book of the same name by Donna Van Liere, which was based on the song of the same name by NewSong, which appears in the movie. It was followed in 2005 by The Christmas Blessing.
Synopsis
Maggie Andrews is dying with cancer and her son Nathan frantically tries to buy her one last special Christmas gift, a pair of ballet shoes. Robert Layton is a man watching his life fall apart as his work drives him away from his family. Though they don't know it, their lives have tentatively crossed paths several times before. On Christmas Eve, as the department store they are both shopping in is closing, Nathan reaches out to Robert for help.
Availability
The film was released on DVD on November 7, 2006.
Cast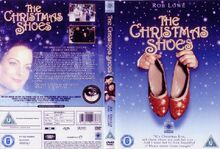 External links