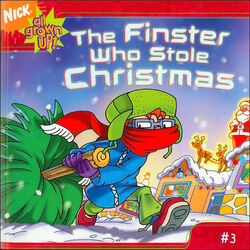 "The Finster Who Stole Christmas" is the Christmas episode of the Nickelodeon animated series All Grown Up! (spun off from Rugrats), produced as part of the show's third season, on December 7, 2004.
Synopsis
This page about a Christmas special or an episode from a television series with a Christmas theme is in need of a longer synopsis. You can help the Christmas Special Wiki by expanding this synopsis.
The gang has just finished school, and Christmas vacation has begun! They are all talking about how they will spend the holidays. Chuckie is worried about his father's choice of Christmas trees, Tommy and Dil are writing their very own Hanukkah song, and Susie is practicing for her solo in her church's Christmas concert. Soon they discover that one of their neighbor's Christmas trees has been stolen... and they can't believe their ears when they find out who did it!
Availability
To date, the episode's only home video release was on the Nick Picks: Holiday compilation DVD, released by Paramount Home Entertainment on September 26, 2006.
Trivia
At one point, Lil tells Chuckie, "God will forgive you." This is a very rare instance of somebody mentioning God in a Nicktoon. In fact, earlier in the episode, Chuckie refers to God as "the burning bush guy."
The episode's title is a reference to How the Grinch Stole Christmas!
Susie's performance of "The First Noel" was included on the album Nick Holiday.
Cast
Gallery
External links
Ad blocker interference detected!
Wikia is a free-to-use site that makes money from advertising. We have a modified experience for viewers using ad blockers

Wikia is not accessible if you've made further modifications. Remove the custom ad blocker rule(s) and the page will load as expected.