The Gift of Love is a 1978 made-for-TV movie based on the O. Henry short story The Gift of the Magi. Directed by Don Chaffney and written by Caryl Ledner, it premiered on ABC on December 8, 1978.
Synopsis
For her dramatic acting debut, singer Marie Osmond chose this sentimental adaptation of the venerable Yuletide short story The Gift of the Magi, previously filmed in 1952 as a segment of the omnibus feature film O. Henry's Full House. Set in turn-of-the-century New York, The Gift of Love casts Osmond as young heiress Beth Atherton, who gives up her life of privilege and luxury to become the wife of poverty-stricken immigrant Rudi Miller (Timothy Bottoms). Though he finds work as a clerk, Rudi is unable to afford a decent Christmas gift for Beth, nor is she able to scrounge enough money from the household budget to purchase a gift for her husband. What happens next hinges on the fact that Rudi is inordinately proud of his gold watch, while Beth takes equal pride in her long, flowing hair. Produced by star Marie Osmond's brothers, The Gift of Love made its ABC network debut on December 8, 1978.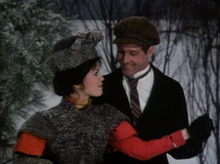 Cast
| Actor | Character |
| --- | --- |
| Marie Osmond | Beth Atherton |
| Timothy Bottoms | Rudi Miller |
| June Lockhart | Constance Schuyler |
| Donald Moffatt | Donald Schuyler |
| James Woods | Alfred Browning |
| Anne Ramsey | Maeve O'Halloran |
External links
This page about a Christmas movie is a stub. Please help The Christmas Special Wiki by expanding this article.