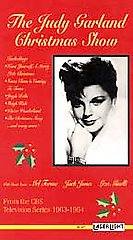 The Judy Garland Christmas Show is the Christmas episode of The Judy Garland Show.
Synopsis
Celebrate Christmas with this rare footage from Judy's acclaimed 1963 CBS-TV series, with special guests Mel Torme, Jack Jones, and Liza Minnelli. Judy performs "Have Yourself a Merry Little Christmas", "The Christmas Song", "Santa Claus Is Coming to Town", and other favorites. It was originally created because after President John F. Kennedy's death, and America was feeling sad, she felt that there needed to be some Christmas spirit. That's why she started with "Have Yourself a Merry Little Christmas."
Gallery
See also
This page about a Christmas special or an episode from a television series with a Christmas theme is a stub. Please help the Christmas Special Wiki by expanding this article.
Ad blocker interference detected!
Wikia is a free-to-use site that makes money from advertising. We have a modified experience for viewers using ad blockers

Wikia is not accessible if you've made further modifications. Remove the custom ad blocker rule(s) and the page will load as expected.