The Little Drummer Boy, Book II is a Christmas television special produced in stop-motion animation by Rankin/Bass. As the title suggests, it is a sequel to the 1968 special The Little Drummer Boy. Originally broadcast on NBC on December 13, 1976, it is notably the only Rankin/Bass special to receive an Emmy nomination; it was nominated for the 1977 Primetime Emmy Award for Outstanding Children's Program.
Synopsis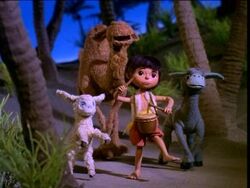 The special picks up where The Little Drummer Boy left off, at the little stable in Bethlehem, shortly after the birth of Jesus. Melchior, one of the three kings from the first movie, invites Aaron to travel with him to see his friend, an elderly bell-maker named Simeon who plans to make a very special set of silver bells to honor the birth of Jesus.
Meanwhile, a group of tax collectors, led by Brutus and his dim-witted lackey Plato, break into Simeon's home. Simeon cannot pay his tax, so to compensate, the tax collectors decide to take the silver bells.
Melchior, along with Aaron and his animals, arrives shortly thereafter, and they all take off to the tax collectors' camp, planning to take back the silver bells. However, this proves to be one of the most challenging tasks Aaron has ever faced. And things are about to get ugly when the tax collectors have their eye on Aaron's beloved drum.
Songs
Trivia
The characters Brutus and Plato bear similarities to Ben Haramed and Ali from the first special. Ben and Brutus both harbored a thirst for money that caused much of the conflict in both specials; Ali and Plato both played the role of the "idiot lackey", and both were called "fools" by Ben and Brutus, respectively. It could also be concluded that Ali and Plato are not really evil as their leaders are, and might not even know any better than to do as they say.
Availability
After acquiring the distribution rights for the post-1973 Rankin/Bass specials, Warner Home Video released The Little Drummer Boy, Book II on VHS in 1993. It was eventually made available again on the Rankin/Bass TV Holiday Favorites Collection manufacture-on-demand DVD, released exclusively through Warner Archive on July 30, 2012.
Cast
External links
Ad blocker interference detected!
Wikia is a free-to-use site that makes money from advertising. We have a modified experience for viewers using ad blockers

Wikia is not accessible if you've made further modifications. Remove the custom ad blocker rule(s) and the page will load as expected.