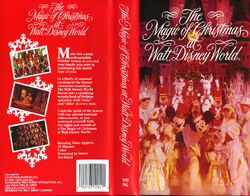 The Magic of Christmas at Walt Disney World is a 1992 direct-to-video special that was only available at the Disney parks.
Synopsis
In a flurry of seasonal excitement the Disney characters transform the Walt Disney World resort into a sparkling wonderland of holiday splendor, with "oohs" and "ahhs" at every turn.
Gallery
This page about a Christmas special or an episode from a television series with a Christmas theme is a stub. Please help the Christmas Special Wiki by expanding this article.
Ad blocker interference detected!
Wikia is a free-to-use site that makes money from advertising. We have a modified experience for viewers using ad blockers

Wikia is not accessible if you've made further modifications. Remove the custom ad blocker rule(s) and the page will load as expected.