"The One With the Holiday Armadillo" is the eighth Christmas episode of the NBC sitcom Friends, aired in the show's seventh season.
Synopsis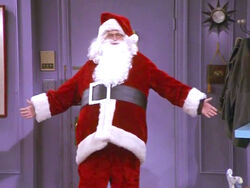 Phoebe brings in her late mother's Christmas memorial candy dish, shaped like a skull. Ben stays with Ross for the holidays who intends to teach his son about their Jewish heritage. He feels Ben is only exposed to Christmas traditions. Ross certainly makes his mark on Ben but the idea of a year without Santa sounds like a serious punishment.
Ross, wants to surprise Ben but can't rent any Christmas suit this late, so he invents Santa's Tex-Mex friend: the Holiday Armadillo. The Armadillo explains about Hanukkah, but Chandler appears as Santa to help out Ross. Ross however was really connecting with Ben so asks Chandler to leave, until Monica asks him to keep the suit "for later"!
Availability
The episode was included on the Friends: The Complete Seventh Season DVD set, released by Warner Home Video in 2004. [1]
Cast
References
External links
Ad blocker interference detected!
Wikia is a free-to-use site that makes money from advertising. We have a modified experience for viewers using ad blockers

Wikia is not accessible if you've made further modifications. Remove the custom ad blocker rule(s) and the page will load as expected.