"The Party Surprise" is a Christmas episode from the twelfth season of Thomas & Friends. Michael Angelis narrates it.
Synopsis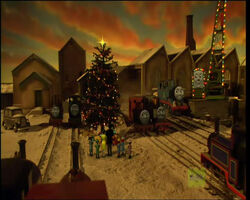 Mr. Percival is holding a special Christmas party. All the narrow gauge engines are to deliver party supplies to his house. Freddie is at the wharf with his friend Colin, who has never been to a party because he is fixed in place. Freddie has an idea to hold the party at the wharf so Colin can be there too. Freddie tries to reorganize everything, but in doing so the party nearly doesn't happen. Freddie sees Mr. Percival and confesses what has happened. Freddie learns that he should have asked first and is allowed to go and put everything right.
External links
Ad blocker interference detected!
Wikia is a free-to-use site that makes money from advertising. We have a modified experience for viewers using ad blockers

Wikia is not accessible if you've made further modifications. Remove the custom ad blocker rule(s) and the page will load as expected.