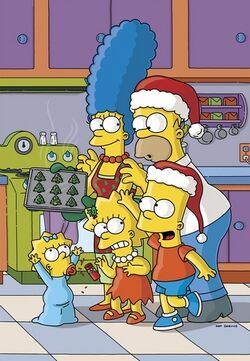 The Simpsons is an animated sitcom created by Matt Groening for the Fox Broadcasting Company. It is a soft-satirical parody of the "Middle American" lifestyle epitomized by its title family, which consists of Homer, Marge, Bart, Lisa, and Maggie. The show is set in the fictional town of Springfield, and lampoons many aspects of the human condition, as well as American culture, society as a whole, and television itself.
The half-hour series premiered on December 17, 1989, with "Simpsons Roasting on an Open Fire", a Christmas special. Since its debut, the show has aired over 500 episodes over the course of 25 seasons and has featured several Christmas-themed episodes, all categorized here.
Pages in category "The Simpsons"
Ad blocker interference detected!
Wikia is a free-to-use site that makes money from advertising. We have a modified experience for viewers using ad blockers

Wikia is not accessible if you've made further modifications. Remove the custom ad blocker rule(s) and the page will load as expected.