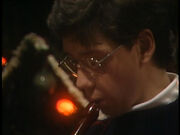 The Smiths' Neighbors are the guests of Wee Sing The Best Christmas Ever! who like caroling together. One of them, Chris, is not only a caroler but a recorder player and he is in a wheelchair, presumably due to a terrible accident. Another is a black girl that sings the song "Christmas Day Will Soon Be Here" with Susie and the other kids.
Ad blocker interference detected!
Wikia is a free-to-use site that makes money from advertising. We have a modified experience for viewers using ad blockers

Wikia is not accessible if you've made further modifications. Remove the custom ad blocker rule(s) and the page will load as expected.