The Snowman Cometh
is the Christmas Special of the 2015 reboot of Danger Mouse.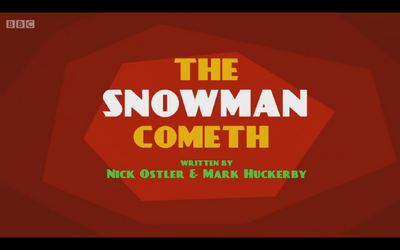 Synopsis
It's Christmas! Danger Mouse (Alexander Armstrong) and Penfold (Kevin Eldon) are tasked with protecting Santa (Brian Blessed) from the villainous clutches of the festive season-destroying Snowman.
Plot
Embarrassingly inept villain the Snowman (Richard Ayoade) is fed-up with being humiliatingly defeated by Danger Mouse and decides to get revenge by kidnapping Father Christmas. This time, Danger Mouse and Penfold's attempts to thwart the Snowman end in disaster, with the villain superpowered by Christmas spirit and Santa's hat! In a whirlwind of bah and humbug, the Snowman sabotages the festive holiday. Danger Mouse must lead an army of elves and a rejuvenated Santa to battle the superpowered Snowman and melt his evil plans.
Ad blocker interference detected!
Wikia is a free-to-use site that makes money from advertising. We have a modified experience for viewers using ad blockers

Wikia is not accessible if you've made further modifications. Remove the custom ad blocker rule(s) and the page will load as expected.