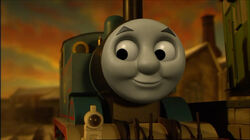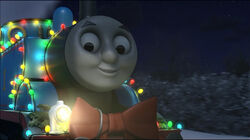 Thomas the Tank Engine is a fictional anthropomorphic steam locomotive in The Railway Series books by the Rev. W. Awdry and his son, Christopher. First appearing in the second book in the series in 1946, he is a tank engine, painted blue with red lining, and displays the running number one. All of the locomotives in The Railway Series were based on prototypical engines; he has origins in the E2 Class designed by Lawson Billinton in 1913.
In 1979, Britt Allcroft came across the books, mortgaged her house, and used her savings to bring the stories to life as the television series Thomas the Tank Engine & Friends (later simplified to Thomas & Friends). It became an award-winning hit around the world, with a vast range of spin-off commercial products.
Appearances in Christmas specials
External links
This article about a character from either a Christmas movie, television episodic series or special with a Christmas theme is a stub. Please help to expand this article in the Christmas Specials Wikia.
Ad blocker interference detected!
Wikia is a free-to-use site that makes money from advertising. We have a modified experience for viewers using ad blockers

Wikia is not accessible if you've made further modifications. Remove the custom ad blocker rule(s) and the page will load as expected.