True Boo is a Casper the Friendly Ghost cartoon short released in 1952, and notably the first Christmas production featuring the character.
Summary
It's Christmas Eve, and what Casper wants for Christmas is a friend. When his uncles steal his note for Santa, he goes out to find one. But whenever he tries, they run away because he's a ghost. When he hears the cries of a boy named Billy, Casper decides to play Santa and make presents for him from the materials in the house. Billy's mother wakes up and evicts Casper/Santa out of the house. Billy cries for him, and his mom wants Casper/Santa back in.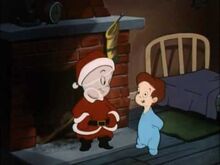 External links
This page about a Christmas special or an episode from a television series with a Christmas theme is a stub. Please help the Christmas Special Wiki by expanding this article.
Ad blocker interference detected!
Wikia is a free-to-use site that makes money from advertising. We have a modified experience for viewers using ad blockers

Wikia is not accessible if you've made further modifications. Remove the custom ad blocker rule(s) and the page will load as expected.