Twice Upon A Christmas is a 2001 made-for-TV movie, and the sequel to Once Upon a Christmas. Like its predecessor, it was directed by Tibor Takács and stars most of the original cast from the first film. As of 2009, it is shown in the 25 Days of Christmas programming block on ABC Family.
Synopsis
Santa's evil older daughter Rudolfa (named after the reindeer) is poised to take over the family business. But she intends to sell off the North Pole piece by piece and end Christmas. Her younger sister Kristen (who left the North Pole) was given amnesia by Santa so that she could live a normal life. She has been trying to remember her past, and is needed to stop Rudolfa from succeeding in her nefarious plan.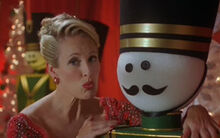 Cast
Kathy Ireland: Kristen Claus
Mary Donnelly-Haskell: Rudolfa Claus
Matthew Walker: Santa Claus
John Dye: Bill Morgan
James Kirk: Kyle Morgan
Kirsten Prout: Brittany Morgan
Wayne Thomas Yorke: Uncle Johnny
Rebecca Toolan: Mrs. Claus
Rachelle Carson: Harley Jones
External links
This page about a Christmas movie is a stub. Please help The Christmas Special Wiki by expanding this article.