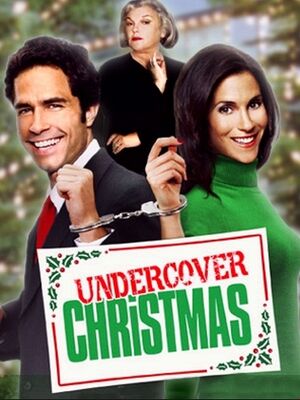 Undercover Christmas is a 2003 American Canadian comedy romance drama TV movie directed by Nadia Tass.
Synopis
Jake Cunningham (Shawn Christian) is an uptight FBI agent assigned to protect Brandi O'Neill (Jami Gertz), a lower-class cocktail waitress who recently helped with the tax fraud investigation of her billionaire boyfriend. When Jake's wealthy parents (Tyne Daly and Winston Rekert) unexpectedly call him home for the holidays, Jake must bring Brandi with him in order to keep her safe prior to the trial. They pose as a couple in order to keep the proceedings a secret until the court date. The Cunninghams disapprove of the match but begin to accept Jake's "girlfriend" just as Jake and Brandi are truly becoming a couple. Brandi testifies against her former boyfriend. The movie ends as Brandi introduces Jake, her new love, to her mother.
Cast
External links
This page about a Christmas movie is a stub. Please help The Christmas Special Wiki by expanding this article.
Ad blocker interference detected!
Wikia is a free-to-use site that makes money from advertising. We have a modified experience for viewers using ad blockers

Wikia is not accessible if you've made further modifications. Remove the custom ad blocker rule(s) and the page will load as expected.