This article is about Christmas specials that were planned or announced, but were ultimately cancelled during production.
Mickey's Nephews
Mickey's Nephews was an unmade Christmas-themed Mickey Mouse short that was in production in 1938. According to the book The Disney That Never Was, it was to have a similar plot to Mickey's Orphans, in that Mickey would play Santa for a group of orphans who previously appeared in the shorts Gulliver Mickey, Orphan's Benefit, and Orphans' Picnic.[1] However, the title suggests that the short would have instead featured Morty and Ferdie Fieldmouse, Mickey's nephews from the newspaper comic strip.
A Tin Toy Christmas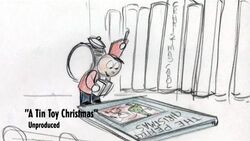 A Tin Toy Christmas, a production by Pixar Animation Studios, was to have been a follow-up to their 1988 short film Tin Toy. It was to have been directed by John Lasseter, who was also co-writing the special with Joe Ranft, Peter Docter, and Andrew Stanton.
The special's plot follows Tinny, the eponymous toy from Tin Toy. In the special's context, he is 1940s musical toy who was put in storage because he didn't sell very well. Many years later, he awakens in a huge megastore during Christmas and goes searching for his old friends, meeting a ventriloquist's dummy and a junkman.
After the project was shelved for two years, John Lasseter took it out again and expanded the concept to a feature-length film, which eventually became Toy Story.
External links
I'll Be Home for Christmas (Peanuts)
I'll Be Home for Christmas was an unmade Christmas special based on the newspaper comic strip Peanuts that was in production during the 1990s. Storyboards for this unproduced special can be seen in the book The Art and Making of Peanuts Animation by Charles Solomon, along with this plot summary:
| | | |
| --- | --- | --- |
| " | Snoopy decides to enter a skating competition in faraway Hollywood, which sadly keeps him from spending Christmas with Charlie Brown, who wants nothing more for Christmas than to have his dog back home. Lucy also wants Snoopy back... to pay his delinquent psychiatric bill - a whopping twenty cents![2] | " |
The summary suggests that the special would have been adapted from a three-week storyline that ran in the comic strip from December 4-22 of 1967. However, in the original story, Snoopy was going to Grenoble, France, where the Winter Olympics were being held that year.
Untitled 2008 Doctor Who Christmas special
In 2008, an untitled Christmas episode of Doctor Who was written, but never produced. The plot would involve an alien creature attaching itself to J.K. Rowling, author of the Harry Potter books, resulting in the world being turned into a magical reality influenced by her imagination. The Doctor would have to battle wizards and witches in order to find Rowling and set things right.
"Miracle on Bannerman Road"
"Miracle on Bannerman Road" was an unmade episode of The Sarah Jane Chronicles, written by Gareth Roberts and Clayton Hickman, that would have served as the conclusion to the fourth series. It was to be a take on A Christmas Carol in which a guide (the role of whom was at one point considered for Tom Baker) would show Christmas past, presents and future to Sarah Jane.
Untitled Marvin the Martian movie
On July 29, 2008, Warner Bros. Pictures and Alcon Entertainment announced plans for a live action/computer-animated Christmas movie starring Looney Tunes antagonist Marvin the Martian. The film would be about Marvin, who would be voiced by Mike Myers, trying to destroy the Earth during Christmas by becoming a competitor of Santa Claus, portrayed by Christopher Lee. The film was scheduled to be released on October 7, 2011, but as of 2018, appears to have been scrapped. Test footage of the film (which featured Eric Bauza voicing Marvin) was leaked on December 28, 2012.
Diary of a Wimpy Kid: Cabin Fever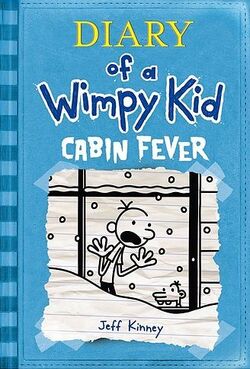 Diary of a Wimpy Kid: Cabin Fever was to be an animated Christmas television special based on the book of the same name. It was announced that it would be airing on FOX in late 2014, but appears to have been canned.
References