Once again, the videos and DVD are all snug in their vaults, and my Santa hat is in storage for a long eleven-month nap, and we know what that means. As we turn the page to 2012, and pray that the Mayans were wrong on the end of the world as we know it, let's look at the best and worst that we got under the obscenely expensive JehriTron 12000 3-D HDTV this year.
Best Sequel To a Popular Christmas Special
No doubt,
Prep & Landing: Naughty vs. Nice
was hands down the best special of 2011, and surpassed the original in every way possible. Fresh voices such as Rob Riggle, Chris Parnell and Emily Ayn Lind joined Dave Foley, Sarah Chalke and Derek Richardson to not only how the Spirit of Christmas and settling a family dispute whilst recovering an important piece of Naughty Intel called a Fruitcake Calcuation Communicator (Get it? FCC.) are all truly what the holiday is about.
Worst Excuse for a Christmas Special
What can be said for a Hallmark special called Hoops and Yo-Yo Ruin Christmas? This was a total waste of a DVD disc, and does not belong in the Hallmark Hall of Fame, but instead, lives in the Hallmark Hall of Shame. We know you're trying to sell cards and orniments as well as talking books, but this is not the way to do it, with some hyperactive characters visiting a dairyman named Nicholas. Legendary Rankin-Bass storyteller Romeo Muller is doing cartwheels in his grave as we speak.
Best Family Special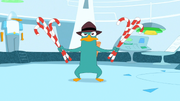 A Phineas and Ferb Family Christmas
spoofed every old variety show Christmas special (see The King Family, Andy Williams, Bing Crosby, et al.) And you had me at
Kelly Clarkson
, the first winner of
American Idol
.
Worst. Christmas. Movie. (Not of all-time)
A Very 3D Harold and Kumar Christmas. When this DVD comes out, be sure you get this for all your enimies on your personal list. 'Nuff said.
Best Pre-Schooler Holiday Episode
Yo ho ho, my four-year old nephew loves Jake and the Never Land Pirates, so it was refreshing to see them do a Christmas episode titled "
It's a Winter Never Land!/Hook on Ice!
" And as an adult, lemme tell you Sharkey and Bones and their Pirate Rock rock!
That's all I can think of for now. If you have any other bests and worsts from the TV, film and other things from the holiday passed, leave a comment.
Ad blocker interference detected!
Wikia is a free-to-use site that makes money from advertising. We have a modified experience for viewers using ad blockers

Wikia is not accessible if you've made further modifications. Remove the custom ad blocker rule(s) and the page will load as expected.