Ad blocker interference detected!
Wikia is a free-to-use site that makes money from advertising. We have a modified experience for viewers using ad blockers

Wikia is not accessible if you've made further modifications. Remove the custom ad blocker rule(s) and the page will load as expected.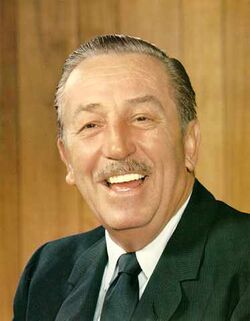 Walter Elias "Walt" Disney (December 5, 1901 – December 15, 1966) was an American animator, film producer, director, screenwriter, voice actor, entrepreneur, entertainer, international icon, and philanthropist, well known for his influence in the field of entertainment during the 20th century. Along with his brother Roy O. Disney, he co-founded Walt Disney Productions, which later became one of the best-known motion picture producers in the world. The corporation is now known as The Walt Disney Company and had an annual revenue of approximately US$36 billion in the 2010 financial year.
Disney was particularly noted as a film producer and a popular showman, as well as an innovator in animation and theme park design. He and his staff created some of the world's most well-known fictional characters, including Mickey Mouse, for whom Disney himself provided the original voice. During his lifetime he received four honorary Academy Awards and won 22 Academy Awards from a total of 59 nominations, including a record four in one year, giving him more awards and nominations than any other individual in history. Walt died on December 15, 1966 from lung cancer in Burbank, California
Credits for Christmas specials
Voice roles
External links