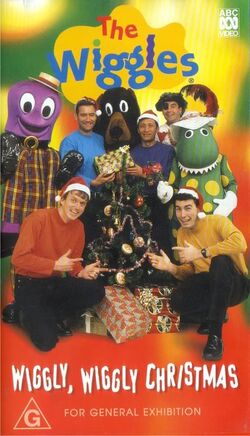 Wiggly, Wiggly Christmas is a 1997 Christmas video featuring The Wiggles, based on the album of the same name that was released the previous year. It was released in September 8, 1997 by ABC Video distributed by Roadshow Entertainment.
Synopsis
Wiggly, Wiggly Christmas is a terrific music compilation of new and favorite Christmas songs. Jeff, Greg, Anthony, and Murray join a fun cast of characters in performing both upbeat, familiar carols and creating their own brand of new Christmas classics.
Featured songs
Cast
The Kids
Trivia
Gallery
See also
External links
Ad blocker interference detected!
Wikia is a free-to-use site that makes money from advertising. We have a modified experience for viewers using ad blockers

Wikia is not accessible if you've made further modifications. Remove the custom ad blocker rule(s) and the page will load as expected.