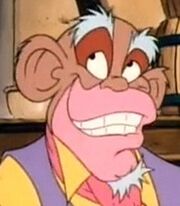 Wilkins Micawber is a character from Charles Dickens's 1850 novel David Copperfield. He was modelled on Dickens' father, John Dickens, who like Micawber was incarcerated in debtors' prison (the King's Bench Prison) after failing to meet his creditors' demands. Micawber's long-suffering wife, Emma, stands by him despite his financial exigencies that force her to pawn all of her family's heirlooms.
This article about a character from either a Christmas movie, television episodic series or special with a Christmas theme is a stub. Please help to expand this article in the Christmas Specials Wikia.
Ad blocker interference detected!
Wikia is a free-to-use site that makes money from advertising. We have a modified experience for viewers using ad blockers

Wikia is not accessible if you've made further modifications. Remove the custom ad blocker rule(s) and the page will load as expected.